Ra-Hoor-Khuit Network's
Magickal Library
The Lord of Earned Success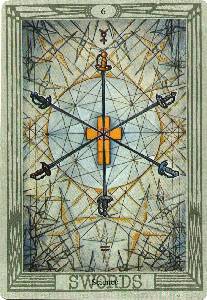 "Six of Swords"

Six of Swords: Science. Mercury in Aquarius. Tiphareth.
The points of the swords centre in a rose and cross. They are lying on a fencer's diagram (14th century) which was worked out scientifically to show the positions in which a fencer can stand and be invulnerable. The card suggests by its symmetrical design a perfect balance of intellect and principle.
---
Tiphareth in the suit of Air. Mercury in Aquarius.
The ornamental hilts of the Swords form a hexagon in the card. Their points touch the outer petals of the red rose upon a Golden Cross of six squares. The perfect balance of mental and moral faculties, hardly won and impossible to hold, interprets the idea of Science.
---
Intelligence that has realized its goal. Labor. Work. Success after anxiety. Passage from difficulty. Journey by water. Ill-dignified: Selfishness. Conceit. Intellectual pride.
This page last updated: 03/01/2018