Ra-Hoor-Khuit Network's
Magickal Library
The Queen of the Thrones of Air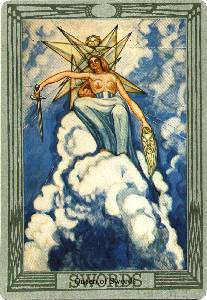 "Queen of Swords"

Queen of Swords: The placing of the cruel queen on columns of clouds is intended to suggest rain and consequent darkening of the skies.
---
Represents the water part of Air, that is its elasticity and transmissive power. She is throned on the clouds, and her helmet carries a child's head. In one hand a sword, in the other a head of a man. She represents the clear perception of an idea, the Liberator of mind.
---
Represents the watery part of air. A graceful woman, intensely perceptive, a keen observer, subtle interpreter, an intense individualist, confident, gracious and just. Ill-dignified: Cruel, sly, deceitful and unreliable woman. Superficial attractiveness makes her all the more dangerous.
This page last updated: 03/01/2018