Ra-Hoor-Khuit Network's
Magickal Library
The Lord of Earthly Power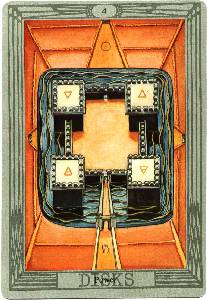 "Four of Pentacles"

Four of Disks. Power. Sun in Capricornus. Chesed. Four square disks engraved with the signs of the elements form the towers of a fortress surrounded by a moat. The design is intended to show the perfect government of the universe by law and order.
---
Power. Chesed in the suit of Earth. Sun in Capricornus.
The Disks are very large and solid, and suggest a fortress. This card symbolises Law and Order, maintained by constant vigilance.
---
Power. Law and order. Gain of money and influence. Earthly power but nothing beyond. Success. Rank. Dominion. Skill in the direction of physical forces. Ill-dignified: Prejudice. Covetousness. Suspicion. Lack of originality.
This page last updated: 03/01/2018