Ra-Hoor-Khuit Network's
Magickal Library
The Lord of Material Trouble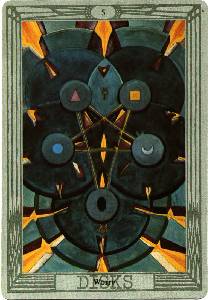 "Five of Pentacles"

Five of Disks: Worry. Mercury in Taurus. Geburah. Five disks in a inverted pentagram They are surrounded by other disks which are bent and torn by strain. The picture shows suppressed action and the binding of celestial forces to mechanical purposes.
---
Worry. Geburah in the suit of Earth. Mercury in Taurus.
This represents the five Disks in an inverted pentagram. The general effect is one of strain, yet the symbol is long-continued inaction. Its natural meaning is intelligence applied to labour.
---
Worry. Intense strain with continued inaction. Loss of money. Profession. Monetary anxiety. Poverty. Well-dignified: Labor. Land cultivation. Building. Intelligence applied to labor.
This page last updated: 03/01/2018