Ra-Hoor-Khuit Network's
Magickal Library
The Lord of Material Success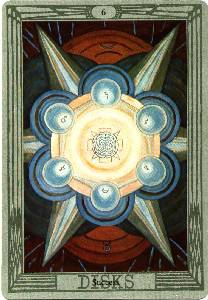 "Six of Pentacles"

Six of Disks: Success. Moon in Taurus. Tiphareth. The disks form a hexagram and represent the seven planets with the sun in the centre as a rose and cross. These indicate the harmonious movement of the spheres.
---
Success. Tiphareth in the suit of Earth. Moon in Taurus.
The Disks are in a hexagram. The planets are arranged in their usual attribution, in the centre the Sun as Rose and Cross. This typifies the harmonious establishment of the energy of the Element.
---
Success. Success and gain in material things. Power. Influence. Nobility. Philanthropy. Somewhat dreamy and transitory situation. Ill-dignified: Insolence. Conceit with wealth. Prodigality.
This page last updated: 03/01/2018