Ra-Hoor-Khuit Network's
Magickal Library
The Lord of Material Gain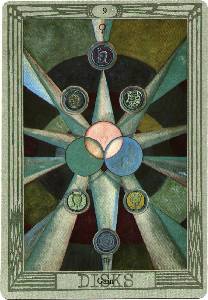 "Nine of Pentacles"

Nine of Disks: Gain. Venus in Virgo. Yesod. Six disks stamped with the pictures of the deities of the planets form two equilateral triangles and the remaining three are interlaced in the middle. These with their beams of light show a condition in which chance and management give an increasing good fortune.
---
Gain. Yesod in the suit of Earth. Venus in Virgo. The Disks have become coins, and are arranged as an equilateral triangle of three, apex upwards, surrounded by a ring. Six larger Disks form a hexagon. This signifies the multiplication of the original Word, the mingling of good luck and good management.
---
Gain. Good luck attending material affairs. Inheritance. Great increase of wealth. Completion of material gain. Ill-dignified: Covetousness. Theft. Knavery.
This page last updated: 03/01/2018