Ra-Hoor-Khuit Network's
Magickal Library
The Lord of Wealth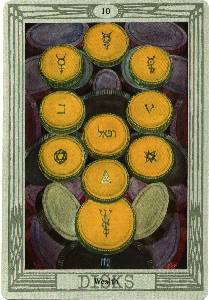 "Ten of Pentacles"

Ten of Disks: Wealth. Mercury in Virgo. Malkuth. The disks have now definitely become coins and are arranged on the Tree of Life. They are stamped with different renderings of the signs of Mercury. This mercurial signature is intended to show that though they appear solid, they are, in reality, fugitive.
---
Wealth. Malkuth in the suit of Earth. Mercury in Virgo. The Disks have become coins, and are arranged on the Tree of Life, the tenth Disk being larger. The image indicates the futility of material gain.
---
Wealth. Material prosperity and riches. Completion of material fortune but nothing beyond final solidification unless there is devotion to creativity. Old age. Ill-dignified: Slothfulness. May mean partial loss, dullness of mind with acuity and profit in money transactions. Heaviness.
This page last updated: 03/01/2018