Ra-Hoor-Khuit Network's
Magickal Library
The Lord of the Wide and Fertile Land;
The King of the Spirits of Earth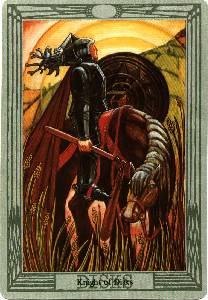 "Knight of Pentacles"

Knight of Disks. The knight is being drawn into the soil. He represents the generative property of earth.
---
The fiery part of Earth. Mountains, earthquakes, also gravitation, and the activity of Earth as a producer of Life. He is clothed as a warrior, and his helmet is crested with a stag. He is armed with a flail, carries an exceptionally solid Disk, and is mounted on a shire horse.
---
Represents the fiery part of earth. A farmer, patient, laborious and clever in material things, perhaps somewhat dull and preoccupied with material affairs. Ill-dignified: Avaricious, surly, petty, jealous, grasping man.
This page last updated: 03/01/2018