Ra-Hoor-Khuit Network's
Magickal Library
The Queen of the Thrones of Earth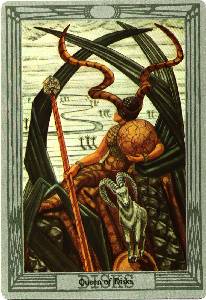 "Queen of Pentacles"

Queen of Disks. Every symbol in this picture suggests the fertility and warmth of earth.
---
Watery part of Earth or fertility. She is throned amid vegetation and crowned with the spiral horns of Markhor. Her sceptre is surmounted by a cube, and she holds her proper Disk -- a sphere of circles and loops. She typifies ambition of matter to take part in the work of creation.
---
Represents the watery part of earth. A woman ambitious in useful directions, affectionate and kind, charming, timid, practical, quiet and domesticated. Ill-dignified: Dull. Servile. Foolish. Capricious. Prone to debauch and moodiness.
This page last updated: 03/01/2018