Ra-Hoor-Khuit Network's
Magickal Library
Princess of the Echoing Hills:
Rose of the Palace of Earth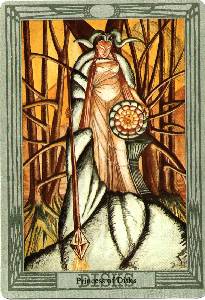 "Knave of Pentacles"

Princess of Disks. Here we have an attempt to translate into a picture the spiritual quality of earth, eternally pregnant and containing in its fertility the unwritten cypher of cosmic lore.
---
Earthy part of Earth, or the element on the brink of Transfiguration. She is standing, her crest is the head of the ram; her sceptre descends into the earth where its head becomes a diamond. Behind are a grove of trees, and an altar resembling a wheatsheaf. She carries a Disk in whose centre is the Chinese ideogram denoting the twin spiral force of Creation in perfect equilibrium.
---
Represents the earthy part of earth. A young woman beautiful and strong, as if beholding a secret wonder, pregnant with all life. She is generous, kind, diligent, benevolent, preserving. Ill-dignified; Wasteful and prodigal woman at war and her essential dignity.
This page last updated: 03/01/2018