Ra-Hoor-Khuit Network's
Magickal Library
The Lord of Dominion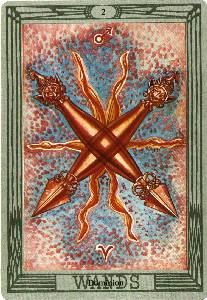 "Two of Wands"

Two of Wands: Dominion. Mars in Aries. Chokmah. Two dorjes crossed, meaning destruction as a beginning of creation.
---
Dominion. Chokmah in the suit of Fire. Mars in Aries.
Here are two dorjes crossed. The dorje is the Tibetan symbol of destruction. But destruction may be regarded as the first step in the creative process.
---
Dominion. Fire in its highest form. Energy initiating a current of force. Harmony of rule and justice. Influence over another. Boldness. Courage. Fierceness. Ill-dignified: Restlessness. Turbulence. Obstinacy.
This page last updated: 03/01/2018