Ra-Hoor-Khuit Network's
Magickal Library
THE LORD OF VICTORY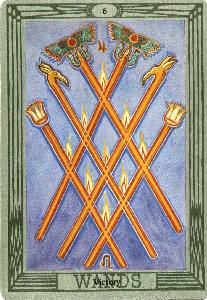 "Six of Wands"

Six of Wands: Victory. Jupiter in Leo. Tiphareth. Caduceus, Phoenix and Lotus wands are in arranged order, the warring and the peaceful opposites are balanced.
---
Victory. Tiphareth in the suit of Fire. Jupiter and Leo.
Three Wands of the three Adepts in arranged order. Nine flames burn as lamps. Energy, and its reception and reflection by the Feminine, are typified.
---
Victory. Energy in balanced manifestation. Love. Gain and success. Triumph after strife. Ill-dignified: Quarreling.
This page last updated: 03/01/2018