Ra-Hoor-Khuit Network's
Magickal Library
THE LORD OF VALOUR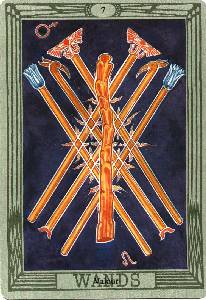 "Seven of Wands"

Seven of Wands: Valour. Mars in Leo. Netzach. The wands are covered by a club. Valour implies fear as well as courage.
---
Valour. Netzach in the suit of Fire. Mars in Leo.
The Adept's Wands are relegated to the background; in front is a crude, uneven club; the flames are dispersed. This shows degeneration of initial Energy, and departure from equilibrium.
---
Valour. Energy feels itself at last gasp. Struggles. Possible victory. Obstacles and difficulties yet courage to meet them. Victory in small things. Ill-dignified: Quarreling.
This page last updated: 03/01/2018