Ra-Hoor-Khuit Network's
Magickal Library
THE LORD OF SWIFTNESS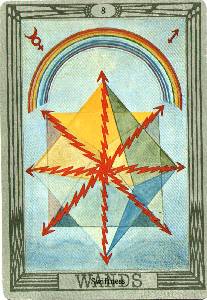 "Eight of Wands or Torches"

Eight of Wands: Swiftness. Mercury in Sagittarius. Hod. The wands have turned into electric energy, above is a rainbow. Here we have the acme of restless force.
---
Swiftness. Hod in the suit of Fire. Mercury in Sagittarius.
This card represents the Light - Wands turned into electrical rays constituting matter by their energy. Above this restored Universe is the Rainbow, representing interplay and correlation. It also shows the energy of high velocity.
---
Swiftness. Speech. Light. Electricity. Energy of high velocity. Activity. Approach to goal. Letter of message. Rapidity. Boldness. Freedom. Ill-dignified: Too much force applied too suddenly. A flash in the pan.
This page last updated: 03/01/2018