Ra-Hoor-Khuit Network's
Magickal Library
THE LORD OF OPPRESSION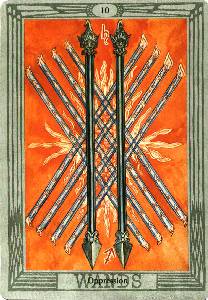 "Ten of Wands"

Ten of Wands: Oppression. Saturn in Sagittarius. Malkuth. Eight plain wand sticks, dominated by two dorjes lengthened into bars, show the slow smouldering of an exhausted force.
---
Oppression. Malkuth in the suit of Fire. (Astrological attribution for the Ten of Wands, which Lady Harris did not include, is Saturn in Sagittarius.)
The Wands are crossed, showing the powers of completed energies of Fire, but they have lost their patents of nobility. In front are two dorjes lengthened to bars. This card shows the Force detached from its spiritual sources.
---
Oppression. Force detached from spiritual sources. Fire in its most destructive aspect. Cruelty and malice. Selfishness. Lying. Repression. Slander. Ill will. Can be self-sacrifice and generosity if particularly well-dignified.
This page last updated: 03/01/2018