Ra-Hoor-Khuit Network's
Magickal Library
THE LORD OF THE FLAME AND THE LIGHTNING;
THE KING OF THE SPIRITS OF FIRE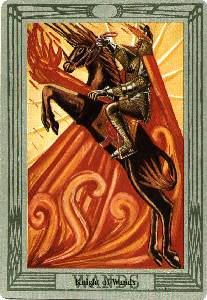 "Knight of Wands"
Knight of Wands. This is the purely male creative force in fire or spirit.
---
Fiery part of Fire.
This card represents a warrior in complete armour on a black horse. Note--No description of 33.
---
Represents the fiery part of fire. A man with the qualities of activity, generosity, impetuosity, pride and swiftness. Ill-dignified: Evil-minded, cruel, bigoted and brutal man.
This page last updated: 03/01/2018