Ra-Hoor-Khuit Network's
Magickal Library
THE QUEEN OF THE THRONES OF FLAME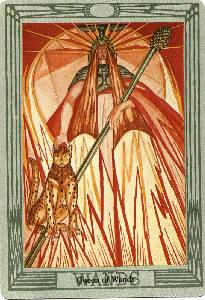 "Queen of Wands"

Queen of Wands. This represents the receptivity of fire, its movement and colour.
---
Watery part of Fire, its fluidity and colour. The card shows a Queen with a crown of the winged globe.
She is seated on a throne of flame, ordered into geometrical light by her material power. She carries a Wand topped with a fir cone, suggestive of the mysteries of Bacchus.
---
Represents the watery part of fire. A woman of adaptability, persistent energy, calm authority, with great power to attract, generous but impatient of opposition. Ill-dignified: A woman who is stupid, obstinate, revengeful, domineering, quick to take offense without good cause.
This page last updated: 03/01/2018