Ra-Hoor-Khuit Network's
Magickal Library
THE PRINCE OF THE CHARIOT OF FIRE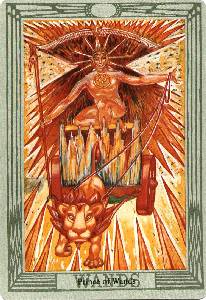 "King of Wands"

Prince of Wands. Here is shown the airy quality of fire, smoke and expansion.
---
Airy part of Fire, with its faculty of expanding and volatilising.
He is seated in a Chariot of Flame and holds the Phoenix Wand of Power and Energy.
---
Represents the earthy part of fire. A young man, swift and strong, impulsive, violent, just, noble and generous with a sense of humor. Ill-dignified: Proud, intolerant, cruel and prejudiced youth who may be a coward.
This page last updated: 03/01/2018