Ra-Hoor-Khuit Network's
Magickal Library
THE PRINCESS OF THE SHINING FLAME;
THE ROSE OF THE PALACE OF FIRE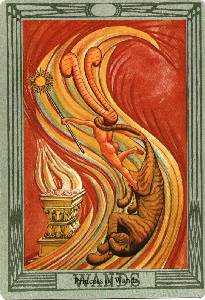 "Knave of Wands"

Princess of Wands. The material aspect of fire is suggested, such as creeping flames liable to burst into a violent conflagration.
---
The earthy part of Fire, or the irresistible chemical attraction of the combustible substance. She has the plumes of Justice streaming from her brow, and holds a Wand crowned by the Sun.
---
Represents the earthy part of fire. A young woman, individualistic, brilliant and daring with great energy, sudden and violent in love or anger, enthusiastic. Ill-dignified: Superficial, theatrical, shallow, false, cruel, unreliable, faithless, domineering woman.
This page last updated: 03/01/2018