Ra-Hoor-Khuit Network's
Magickal Library
The Empress.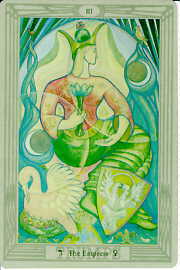 The Daughter of the Mighty Ones. Daleth. Venus.
The Empress. Venus. Daleth. The Empress is seated in the traditional posture symbolising alchemical Salt. This is woman in her all-embracing receptivity, incarnate womanhood, holding the lotus, wearing the belt of the Zodiac, surrounded by her Venus birds, the pelican of self-surrender and the heraldic white eagle of salt.
---
She is seated in traditional posture. This posture represents salt, the inactive principle of nature. The lotus typifies the feminine or passive power. The Bees on the robe may be compared with the Fieur de Lys, suggesting the French origin of the symbol; the belt is the Zodiac. The Pelican may be identified with the Great Mother and her offspring. It represents the continuity of life and inheritance of blood uniting all forms of nature. The White Eagle typifies Alchemical Salt, and the White Tincture, of the nature of silver.
---
Love. Beauty. Happiness. Pleasure. Success. Fruitfulness. Good fortune. Graciousness. Elegance. Gentleness. Ill-dignified: Dissipation. Debauchery. Idleness. Sensuality.
This page last updated: 03/01/2018