Ra-Hoor-Khuit Network's
Magickal Library
The Lord of Love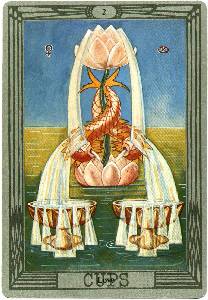 "Two of Chalices"

Two of Cups: Love. Venus in Cancer. Chokmah. Two overflowing cups filled from a lotus and twined with the dolphins of Venus. This is the harmonious union of male and female.
---
Love. Chokmah in the suit of Water. Venus in Cancer.
The card represents two cups overflowing on a calm sea. These are filled from a Lotus, floating on the sea, twined with two dolphins, showing the harmony of the male and female interpreted in the highest and broadest sense.
---
Harmony of male and female interpreted in broadest sense. Perfect and placid harmony radiating intense joy and ecstasy. Pleasure. Warm friendship. Mirth. Ill-dignified: Folly, Dissipation. Waste.
This page last updated: 03/01/2018