Ra-Hoor-Khuit Network's
Magickal Library
The Lord of Abundance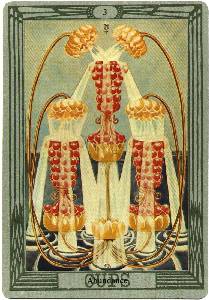 "Three of Chalices"

Three of Cups: Abundance. Mercury in Cancer. Binah. The pomegranate cups are filled by wreathed lotuses to show the happy fruition of love.
---
Abundance. Binah in the suit of Water. Mercury in Cancer.
The Cups are pomegranates, bountifully overflowing in a calm sea, typifying the fulfilment of the Will to Love.
---
Abundance. Spiritual basis of fertility. Plenty. Hospitality. Pleasure. Sensuality. Passive success. Love. Kindness. Bounty. The good things of life, while they are to be enjoyed, are transient and therefore cannot be relied on.
This page last updated: 03/01/2018