Ra-Hoor-Khuit Network's
Magickal Library
The Lord of Pleasure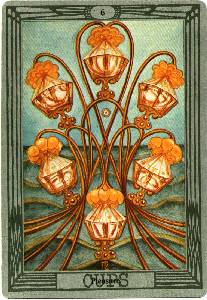 "Six of Chalices"

Six of Cups: Pleasure. Sun in Scorpio. Tiphareth. The cups are full but do not overflow, here is love for personal gratification.
---
Pleasure. Tiphareth in the suit of Water. Sun in Scorpio.
The Lotus stems are grouped in an elaborate movement. Water gushes into them; they are full but not overflowing. This shows the influence of the Sun on Water. His fierce but balanced power operates on a type of putrefaction which is the basis of fertility.
---
Pleasure. Well-being. Harmony of natural forces without effort or strain. Ease. Satisfaction. Happiness. Success. Fulfillment of sexual will. Beginning of steady increase (but beginning only). Ill-dignified: Vanity. Presumptuousness. Thanklessness.
This page last updated: 03/01/2018