Ra-Hoor-Khuit Network's
Magickal Library
The Lord of Illusionary Success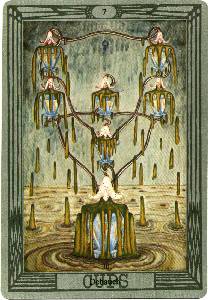 "Seven of Chalices"

Seven of Cups: Debauch. Venus in Scorpio. Netzach. Here the effort to increase pleasure has ended in corruption. The lotuses have become poisonous and the cups are chipped.
---
Debauch. Netzach in the suit of Water. Venus in Scorpio.
The Lotuses have become poisonous; green slime issues from them. They are arranged in two descending triangles, with a lower cup much larger than the rest. This shows external splendour and internal corruption.
---
Debauch. Delusion. Illusory success. Drug addiction. Intoxication. Guilt. Lying. Deceit. Promises unfulfilled. Lust. Fornication. Dissipation in love and friendship. Vanity.
This page last updated: 03/01/2018