Ra-Hoor-Khuit Network's
Magickal Library
Magickal Library

The Lord of Material Happiness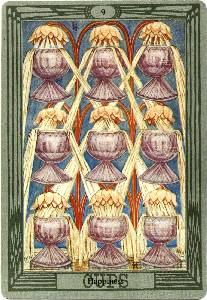 "Nine of Chalices"

Nine of Cups: Happiness. Jupiter in Pisces. The nine cups are perfectly arranged, they overflow but this is an ordered possessive aspect of love partaking of a ritual.
---
Happiness. Yesod in the suit of Water. Jupiter in Pisces.
The nine Cups are perfectly arranged in a square. They are filled and overflowing with water. This is the most beneficent aspect of water.
---
Happiness. Complete success. Pleasure and happiness. Physical well-being. Happiness almost perfect but perhaps temporary. Ill-dignified: Danger of vanity, self-praise, conceit and overindulgence.
This page last updated: 03/01/2018
Translate this page