Ra-Hoor-Khuit Network's
Magickal Library
The Lord of the Waves and the Waters;
The King of the Hosts of the Sea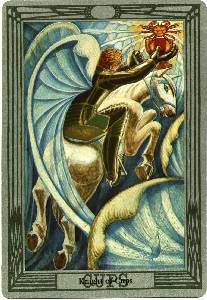 "Knight of Cups"

Knight of Cups. He is the strength and energy of water, the ocean. The peacock in the waves stands for brilliance, the crab for the aggression of the flood.
---
Fiery part of Water, or water's power of solution. The card represents him as a warrior in black armour, with white wings, on a white horse. In his hand he carries the Cup from which issues a Crab, sign of water in aggression. The peacock symbolises the brilliance of water.
---
Represents the fiery part of water. A man who is a graceful dilettante, amiable in a passive way, quick to respond to attraction and easily enthusiastic, exceedingly sensitive but with little depth of character. Ill-dignified: Sensual and idle man, untruthful, prone to melancholy and drug abuse.
This page last updated: 03/01/2018