Ra-Hoor-Khuit Network's
Magickal Library
The Princess of the Waters;
The Lotus of the Palace of the Floods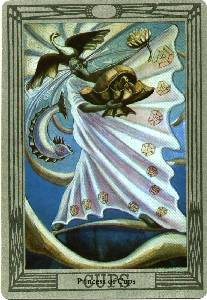 "Knave of Cups"

Princess of Cups. Here is snow. Round the princess's dress are water crystals, beside her is a dolphin of Venus; the tortoise is an emblem of earth to show the solidification of water in mud, ice and snow.
---
Earthy part of Water, or its faculty of crystallisation, also its power to give substance to idea, to support Life, and to form a basis of chemical combination. She is represented as a dancing figure, and has a crest of a swan with open wings. She carries a Cup with a tortoise. The dolphin symbolises the power of creation.
---
Represents the earthy part of water. A young woman, infinitely gracious, all sweetness, voluptuousness, gentleness, kindness, romantic and dreamy. Ill-dignified: Indolent, selfish and luxurious woman.
This page last updated: 03/01/2018